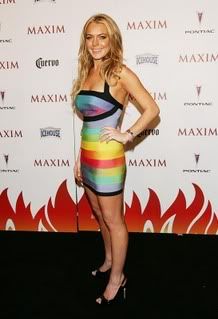 By now, I assume we all know my obsession with Lindsay Lohan. I've written countless diary entries on how I dream about finding out how she is in bed. Calum Best [her recent rumored cheating fling] has granted me this access. It isn't vulgar and descriptive enough but it'll do.



"Lindsay's really insatiable when it comes to sex. She's dynamite between the sheets. No girl I've ever slept with comes close. I was knocked out by her body. She's got one of the best I've ever seen with all the curves in the right places. Lindsay loves being on top during sex and controlling the pace but sometimes I needed ear muffs because she screamed so much during sex. Lindsay was so fit, it was often hard to keep up with her demands. She likes her sex rough and passionate and I have the bruises and bumps to prove it.
Bruises.Bumps.Rough Sex.Controlling.EAR MUFFS.

This is my kinda woman.
& this ladies and gentlemen, is the reason for my Obsession.

That and her I support Gays dress.

Kisses.Hugs&Rubs.