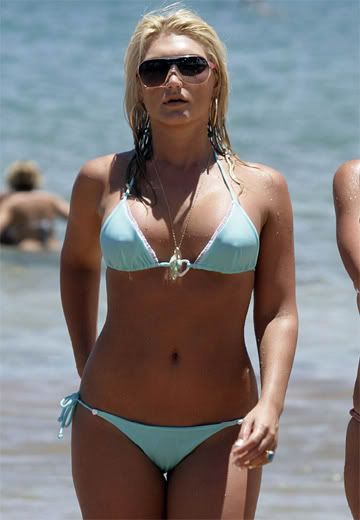 I go through life realizing that no one is looking at face. You're either attracted to the Triple D's sittin heavy or you're checkin your watch. It doesn't really matter because everyone's workin on that neck and below shit anyway.

Here we have Brooke Hogan who is the perfect canidate for it's all good butterface. I'm kidding. I actually think Brooke is quite pretty. She's just Boom. Her father is Hulk Hogan for sushi sake. She might not be worthy of taking a good face picture ever, but she's totally cute on VH1. Anyway, Brooke Hogan has been working out and paraded around the beach over the weekend in this cute Bikini. I see you Brookie. I'm lookin, judging and admiring. You are my goal. I want to look like Brook Hogan from the ribcage down.

When I was younger, I wanted to do dirty nasty naughty things with her Pappa. I wonder if she gave me her work out secrets, if he'd let me get in a scream or seven.