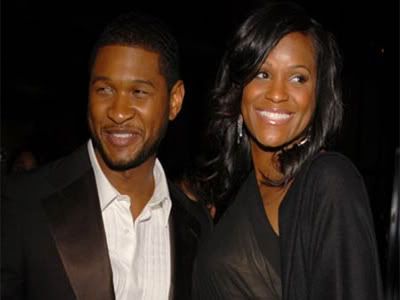 Usher and his Ex Fiancee cancelled their wedding this past weekend and then told America that it was cancelled but then asked for their privacy. Because we care SO MUCH about Usher marrying some woman who kicks people underneath tables. I wonder if she thought we'd care about her like we did about Eva. But what she misunderstood was that ... Eva's wedding was funny. Because she's a desperate housewife who can't keep a man on the show ... but actually got married in reality. Hahahahahaha. Isn't that ... why ... it was ... huge? Because desperate housewife ... real housewife? No? Whatever.

"It was announced today that the wedding ceremony for Usher Raymond IV and Tameka Foster was canceled. No additional information will be given regarding the circumstances of the cancellation, but we hope the privacy of this matter will be respected."

Oh it's respected all right. It's also well known. C'mon people. Usher Raymond is a Rich African American man. You thought he'd marry an African American woman? Hah. This isn't Will and Jada.