I guess I understand what battered women mean when they say, But I love him. Because Britney Spears can seriously do not wrong. It's been awhile since I've written about Brit and I'm going to go ahead and just do a major recap. Because ... it's like a soap opera if we're going to be honest. You can't miss a beat.

Where to begin. Oh I know. Let's talk about her boyfriend of 27 minutes Criss Angel. Because u know, it's totally unbecoming of a lady to walk down the street with a man who is not her father. Because the mouths start flapping and you're fucking and swapping drug tips. OMG !! THEY WENT TO A CLUB AND THEN BACK TO THE TOWERS IN BEVERLY HILLS AND HUNG OUT ON THE BALCONY. BRITNEY DIDN'T EVEN LEAVE UNTIL 9AM THE NEXT MORNING !!!!!! That's a lot of booze and sex. One man. One woman. A Club. A Vehicle. A Hotel Room. 9am the next morning. THAT SCREAMS RELATIONSHIP !! But Criss had to get all defensive about it and tell us that they're not dating, they're collaborating. FOR WHAT YOU ASK !!!!

Well, I'm hearing that Brit's supposed to perform at the MTV Video Music Awards in a couple of weeks. I haven't watched that show since Britney performed Satisfaction SO YOU KNOW I'M TRIPPIN. So now comes the mind rape of ... what the fuck could they possibly do. Is she going to dance, sing and jet all over the stage with new magic tricks? Will she appear ... disappear and snap herself back onstage with a new outfit and new wig? OMG ! You know I don't care. Britney could get up there singing her "rap song" that was a JOKE while making a peanut butter and jelly ... no no not even jelly. Just making a peanut butter sandwich and I'd drool. THIS IS LOVE PEOPLE !!!

And speaking of love, Kevin I better never see him on the street Federline is now coming back with a vengence claming he wants 100% CUSTODY of their two children. Really. This is very interesting to me. He wants full custody of his two children with Britney Spears but doesn't want it for the four kids he has with Shar Jackson. But I guess we're supposed to believe that Kevin wants Sean and Jayden because Britney's unfit. With her bad taste in clothing and decision making. Correct me if I'm wrong, but I think I've heard mothers say ... "I'D DO ANYTHING FOR MY CHILD." So would shaving your head not be considered ... anything? Oh gee. I smoke a lil sumin sumin because America's annoying and all up in and through out my business. Oh damn. And now my deadbeat ex husband wants to take my babies away from me. So now I need to shave my head because in my momentary lapse of common sense ... that was the best solution. So ... TAKE HER BABIES !!! But let Shar keep those black ones. What kind of CHILD SUPPORT PAYMENTS could kevin get from shar jackson anyway. but she pee's on pregnancy tests in front of camera's to let america know she's not pregnant with kevin's baby. SO HOW BAD MUST THE RAT BE !!!

C'mon people. I've convinced myself that I'm the only one. Do you not think that Kevin is doing this because it IS BRITNEY SPEARS. You know he gets together with all his little poor out of the box dancer friends and they jot down ways of making it big. First ... we've gotta get money. How do we do that? A Yo K Fed. You got dem kids wit Britney Spears. Take Em. Get cust-ody and BOOM son! We can make it. Fuckers. You don't need to believe me. Just make sure you send me a cupcake with a pumpkin candy corn on top when he starts his own something or other in a few years. BUUUUT, Kevin has gone ahead and pretty much issued a subpoena to anyone who has come in contact with Britney SINCE having her babies including Alli [her cousin/assistant] and Shannon. [her other assistant/dancer/lesbian lover/woman in the topless hotel pictures with that frat dude] her former manager Larry Rudolph is in hiding because he doesn't want to get one.



"Despite the things that Britney has publicly said about our relationship in the past, I truly understand where she's coming from and why she's said the things she said about me post-rehab and I don't take it personally. As her former manager, I know and understand Britney better than anyone, I know what makes her tick and I understand everything she's going through. With that being said, my loyalty will always stay strong with Britney. I have consulted with my lawyers and I do understand that eventually the time will come when they will find me, but until then, I'm trying to avoid being brought into this mess. She's going through so much right now and I wish Britney the best."



What could these people say? She's really a circus performer and dips Sean and Jayden into hot wax to make molds of them everyday? Because ... I hope we're not going to discuss the whole baby in the front seat, she almost dropped him in NYC that one time thing. That's soo years ago. He better not win.

Uhp! But he just might because reports say that those suckers that Brit's always lickin are DRUG POPS. Drug Pops. Damn. She can't even love Charms without being a Druggie. Yeah. Maybe that's why she's always smiling. Everyone hating on her so much, yet she can still dress up, go out and still have a better Tuesday than you can Saturday. So instead of dealing with it, let's come up with something. "sources say that back east there are suckers with drugs inside." OMG IT'S SO TRUE. I've got two things to say. One question. One comment. Question. What the fuck is the website for the drug suckers and comment. There's this guy named Herbert who tells me all sorts of magical things. Like guns are for kids. Donuts make you skinny and his latest, Chewing Gum [only bazooka] has Cocaine inside. He was like, "Duh ashlie. What'd you think all that white powder was." I told Herbert that he was crazy because I had never heard that from anywhere else. He responded with, "why ruin a good thing." Now I know that Herbert lives on the fourth floor of my brain but he's never lied a day in his life. So you should all now believe that Bazooka has Cocaine in it. Because Herbert said.

Ooo and now Britney is being accused of ABUSING HER DOG because it was in a cast.




"The group's Los Angeles branch has received written confirmation from a veterinarian that Britney Spears's dog London has received proper medical attention for a leg injury." Questions were raised about the Yorkie's condition on Friday, when SPCA president Madeline Bernstein confirmed to PEOPLE that officers attempted to contact the pop singer after receiving complaints that London was in a cast or had broken its leg and had not received proper care. "Over the past day or two we started receiving phone calls and e-mails from people that were concerned about the dogs" in Spears's care, Bernstein said."



If you fell down a flight of stairs and broke your leg ... the proper care would be a cast. Would it not? So who are the nosey motherfuckers trying to make it onto a Blog as the hero? Britney's dog was in a cast so we fear it's not getting the proper care. Take a 20 minute drive south to South Central Los Angeles. Take pictures of all the dogs on the streets with broken legs and uhm ... NO CAST. Oh but DAMNIT. You're right. South Central. Who cares.

Britney's new single, Gimmie More is supposed to hit the radio sometime before the end of next week. STOKED !!!! Although, Ne-Yo took it to the streets this morning on Ryan Seacrest's radio show.



"I have no idea what's going on with Britney Spears right now. The last thing I heard was that Britney was mad at me over some songs that were supposed to go to her that wound up going to Nicole Scherzinger. She got the first look. I wrote the songs for Britney Spears, but this was before she shaved her head and went into rehab again. Nicole took the songs and recorded them. Here's how it happened, I was working with Britney Spear's people. I wrote 6 to 8 songs for Britney Spears, working really closely with her A&R people at her label. Then Britney Spears goes ahead and shaves her head and goes into rehab. When that happened, I lost all contact with her A&R people, with her label. I was calling them, they weren't returning phone calls, wouldn't answer my calls. I'm like, 'Alright. I guess they're not interested anymore.' In the process of all that going on, that's when I met [Pussycat Doll] Nicole Scherzinger. She's like, 'Hey, I'm putting an album together, I'd love you to be a part of it.' I played her two songs, she loved them. They cut a check, she recorded the songs. Those are her songs. After that happened, that's when Britney Spears' people called me like, 'Hey, why are you giving away Britney's music?' I'm like, hold on. Y'all ain't cutting me no check!"



YA'LL AINT CUTTING ME NO CHECK ! I think that's the greatest thing I've ever heard in my life. I'm going to use that. I'm adding it onto my list of Kick Rocks Bitch and Dueces. "Hey Ashlie. You're a Bitch!" YA'LL AINT CUTTIN ME NO CHECK! Oh yeah. Thank ya Ne-Yo !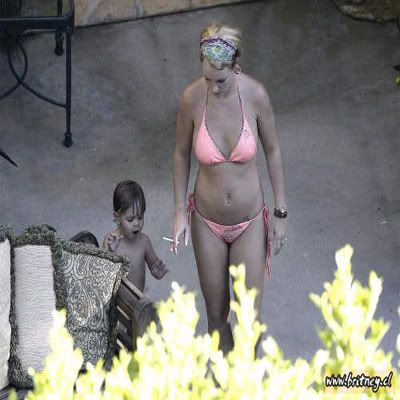 Granted, this might not be a very good picture to have in court but is Britney Spears the only mother who smokes? GET THE FUCK OUT OF HERE. I will agree with you and say she should at least keep the Cigarettes out of Sean's FACE like that. He's like inhaling it. [lol] But enough humor. It's like ... Oops. Mistake. Get the fuck out of my backyard Paparazzi.

And last but certainly not least ... BRITNEY RAN OUT OF GAS, WAS PULLED OVER FOR SPEEDING AND PARKED HER CAR IN A RED ZONE THEREFORE SCORING HER A PARKING TICKET. Oh man. You're right. She's totally nutso. Completely off her rocker. Speeding and Parking tickets? Only retards get those. and Running out of gas !! Why did my favorite new bodyguard not fill up the tank? What's his job? To PROTECT AND FILL THE TANK !! Jeezes. I'm calling him Rupert. Because that's the name of Stewie's Teddy Bear on Family Guy. But yeah. I'll play your game. Britney Spears is totally out of her mind because of ... well ... you read it.