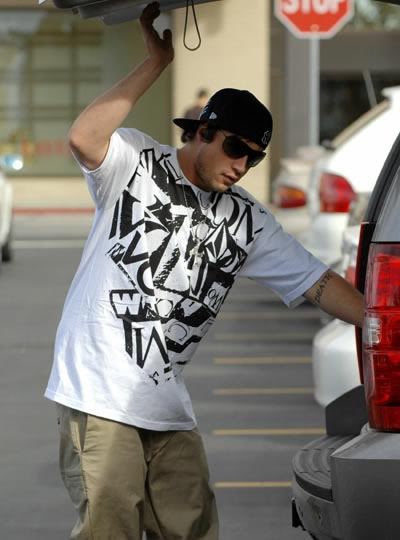 You know how there are seven wonders of the world? I've got a similar thing going on inside of my skull. I won't list them all because I wouldn't want u to die laughing on whatever it is you're putting in your mouth right now but I'll give you a hint. It involves Lindsay Lohan and myspace.

We all know that her new boyfriend Riley Lohan is a keeper. He's totally not hot and he was in Rehab and now we have news that he was engaged to some long nosed bitch. Well ... because love is weird and dumb and shit the long nosed bitch took her sad story to any magazine that would listen. Lindsay Lohan is a homewrecker. That's cute long nose ... but Riley obviously didn't want u bad enough. Because there's NO SUCH THING as ... That Bitch Stole My Man. Your man is either WEAK which means u don't want his bitch ass ANYWAY ... or you weren't sexy enough long nose ... ESPECIALLY against Lindsay Lohan. You shoulda dumped him the second u knew she was in Utah. That's a fight u won't win.

But anyway ... because people know how to utilize myspace ... here's a conversation between Riley and his Ex.

From: Riley

Date: 17/10/2007
why u running to the media? Wtf

From: breezkie

Date: Oct 17, 2007 10:18 PM
Ri i dont even know what to say! all i know is i hope ur ok and making th right decisions! maybe one day we can be friends. peace.... brebrah

From: Riley

Date: 17/10/2007
naah i went fuckin physco yesterday, they took all my shit away from me! OVER YOU!why are u runnin to the tabloids with these fake stories? wtf, whats going on? u & ur moms talkin to everyone! i shouldnt have to defend myself to everyone, and linds is not a homewrecker & u know that!

From: breezkie

Date: Oct 17, 2007 10:42 PM
thats fine way over it as well, one question why u denying the engagement and why did you come talk to mt and say u wanted me back, then go w her. i loved ur family they were the only normal people i could call my family that ive ever had in my life, i had you and i thought things were gonaa get better after we drove around and talked but no she got yah all smittened and star struck, so yah she is a home wrecker and ull find out who really cared for ou in the long run! Ue kidding urself ri! good riidannce and one word karma. yah and its not fair that i gotta wear a beanie hoodie and sunglasses in order to go outta the house. its one thing to go thru a break up but its another thing to have it spread in ur face every where! and people chasing me down wanting info. taking pictures its crazy and sux. what do you mean they took all ur shit away?

From: Riley

Date: 17/10/2007
peoples chasin you down? you serious? nobody knew about u until u ran to the media! our engagement was NEVER official, just somethin we talked about, idk wut to do im just so mad over this whole situation, was that you spreadin my mugshot all ovea the internet as well? REALLY low. u WERE my rock. i thought things were gonna change but u had to go and ruin it, im not starstruck by anyomne, you just dont get it AT all. karam DOES suck, i just dont get why your talkin to everyone, its no ones business but OURS. we needa have a chat, SERIOUSLY 1 on 1, god knows who ur gonna sell this fuckin message to ...

Good form Riley. BREEZKIE seriously tried to guilt trip because she can no longer leave her house without a disguise. Nobody cares about u long nose. Like Riley said ... If u didn't take ur ass to the magazines ... you could be sulking in ur basement with blockbuster movies and ice cream. YOU fucked up.