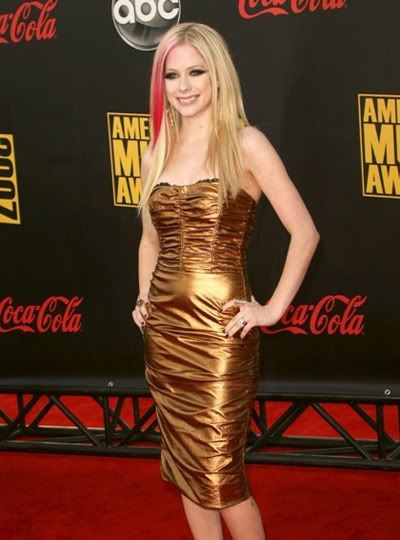 omg. whisper whisper whisper. avril lavigne has totally sold out. i mean look at her. she's ... smiling ... wearing a dress ... with heels. ewww. sell out. no one go to her shows because she's a sell out. because she's not flipping anyone off or spitting. sell out. ugh. avril. sucha sell out.

Avril and her cute pink strip attended the american music awards last night. and this is how much of an amazing blogger I am. i didn't watch it because ... uhm ... i was building huts in my backyard for the family of rabbits that ever so kindly ... hahahaha ... if u smoke like i smoke then ur high like everyday. and that ... labias and genitals is why i missed the awards.

but im glad i missed it. no britney spears performance ... avril lavigne smiling and jennifer lopez winning latin female artist of the year. boo hiss lemon juice on ur open skin.