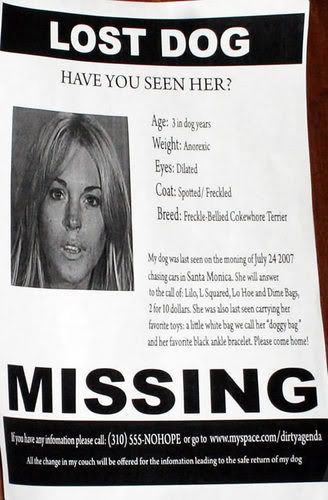 "LOST DOG — HAVE YOU SEEN HER?

Age: 3 in dog years
Weight: Anorexic
Eyes: Dilated
Coat: Spotted/Freckled
Breed: Freckle-Bellied C********** Terrier

My dog was last seen on the morning of July 24, 2007 chasing cars in Santa Monica. She will answer to the call of: Lilo, L Squared, Lo Hoe and Dime Bags, 2 for 10 dollars. She was also last seen carrying her favorite boys: a little white bag we call her "doggy bag" ad her favorite black ankle bracelet. Please come home!"



What's that long C word with way too many shift 8's? See. Whatever. Everyone misses her. Don't think I haven't been going out of my MIND in my candle lit room over here. Surrounded by magazine articles and pictures of her, this pitcher of blood and strands of her hair that I found in the club bathroom that one night. But enough of that.

Someone who hates Lindsay Lohan enough to MAKE THIS and then LEAVE IT ON PARIS HILTON'S GATE is pretty awesome to me. I normally spend all of my free time printing up WANTED posters for the people I hate though. It's usually like Wanted Dead. Not Alive. Fuckin Bitch. OR I'll wind up in Target in the aisle with the crayons markers and construction paper vomiting up vodka and throwing tampons at anyone watching me.

What? Too ridiculous? Didn't see or understand where I was going? My job is done.