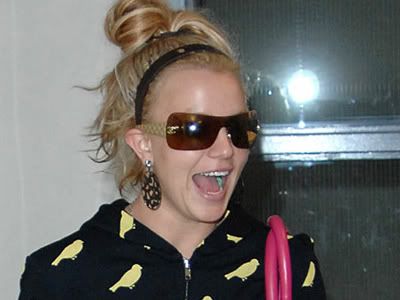 Britney Spears reportedly has a secret fantasy room that she has hidden behind "double doors" of her mansion on Mulholland Drive. Does Britney live on Mulholland now? Last year new years, i got lost with my bestie in Malibu. The only thing that kept me sane was the fact that Britney Spears had driven her Mercedes tires on that exact street. And now you're telling me that when I make the circular drive up Mulholland, i'll have that rush of exstasy all over again? Oh me oh my !



"She wears Catholic schoolgirl uniforms, a maid's uniform and a Cinderella outfit," claims the mole. The source also contends Brit is so obsessed with Marilyn Monroe that she wants her nose redone to look like the blond model of self-destruction.

"Britney is sexually obsessed," the source tells Star.

the house is a stinky sty, that the white couches bear hideous stains of diaper-changing and Britney's dog. According to the tab, a "court-appointed watchdog" is set to declare the place a potential "health hazard."




1. Britney, I love you.

2. She wears costumes, during the act of sex? what the fuck is that? Ugh. She's totally lost it. OUT OF CONTROL she is.

3. Someone on this planet likes Marilyn Monroe? Wasn't she that one chick who helped the president cheat, sold her soul to Hollywood and became one of the biggest sex icons ... ever? Idol? Pattern?

4. IF YOU ARE NOT A BRITNEY SPEARS FAN ... DON'T GET IN HER WAY !!

So this "mole" as they say gained access to Britney's house and was close enough to her to be shown the secret sex room ... and now here this bitch is telling us Britney has shit stains on her couch from her babies and the dog? If you went in the house without the inhaler mask doctors and nail technicians use ... that's on you mole. SO STFU.